The Victor-Victrola Page
Frequently Asked Questions (FAQ's)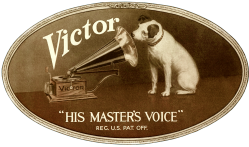 ---
These are a list of answers to the questions we've commonly received from this website for the past 20+ years.
Simply click on the question below to be linked to a response.
HINT: If you read the GETTING STARTED Sections, the majority of these questions will be answered.
Respectfully: If you don't have sufficient time to read though the GETTING STARTED sections, please don't expect us to copy the answer off our website and send it back in response to a question.
For a little fun, have a look at our "Annoying Repetitive Questions" page for a review of the most common questions we receive.

Have an unusual question? Just email us at inquiries@victor-victrola.com.
QUESTIONS ABOUT RECORDS
IDENTIFYING MY MACHINE
DATE OF MANUFACTURE OR AGE OF MY PHONOGRAPH
MACHINE REPAIRS
MACHINE VALUE OR APPRAISALS
OPERATING AN ANTIQUE PHONOGRAPH
BUYING NEEDLES, PARTS and SUPPLIES
TRANSPORTING MACHINES
RESTORATIONS
TROUBLESHOOTING
BUYING OR SELLING PHONOGRAPHS
ABOUT THE VICTOR-VICTROLA WEBSITE