The Victor-Victrola Page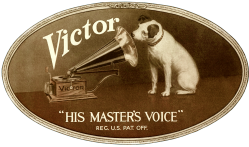 How can I safely move a Victrola?
---
ANSWER: Any spring-wound Victrola can be safely transported in the back of a station wagon, van or SUV. Simply remove the soundbox from the tonearm by twisting it counterclockwise 1/8 turn and pulling it off. Sometimes they stick a bit and might require some encouragement. Then release the brake so that the turntable spins freely. Remove the turntable platter by pulling it straight up and off the spindle. On rare occasions, the turntable may "stick" a bit and not remove easily; in this case, the best bet it to have someone pull-up on the platter (using both hands), and have another person rap the turntable spindle with a soft mallet (not a steel hammer!!!) to loosen it up. Then remove the crank by turning it backwards until it unscrews from the motor. Secure the toneam with rubber bands to keep it from moving around and damaging the interior of the lid. Remove any other loose parts (needle cups, accessories, etc.) and any albums, records or other items in the storage area. Then secure the lid and doors closed with shrink wrap (or by locking them if you have the key). The Victrola can be safely moved on its back or positioned upright (in a van or truck). Use care to wrap it well in furniture blankets to prevent damage to the finish.
Large Electrolas and Radiola consoles from the 1920's will require additional preparations for moving. Email us for details.
PLEASE CLOSE THIS PAGE TO RETURN TO FAQ's or RETURN TO HOME PAGE VIA BUTTON ON TOP LEFT