The Victor-Victrola Page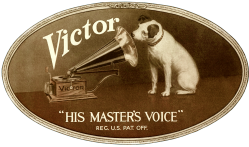 VV 50
RARITY: ¤ VALUE: ¤

---
The VV-50 was Victor's first portable 'suitcase-style' phonograph. This suitcase design had been pioneered by several competitive phonograph companies to allow music-lovers to bring entertainment to the beach or picnics, and it quickly caught-on with the buying public. So Victor scrambled to provide its own machine to fill the demand. The VV-50 was introduced in the early summer of 1921, and was an immediate hit. Selling for just $50.00 (which equates to about $725.00 in today's money), it featured a small single spring motor, a Victrola "No 2" soundbox, nickel plated hardware and a choice of a sturdy oak or mahogany cabinet. Steel corner protectors prevented damage to the cabinet due to accidental bumps.
The earliest versions had the crank mounted in the front of the cabinet (example at left), but by late 1923 the design was changed to a 'right-hand' crank location, making winding more convenient. The horn was located to the rear of the tonearm assembly; therefore, the lid had to remain open in order to listen to records. The crank was stored by means of a clamp located on the upper interior of the lid.
The VV-50 soon became one of Victor's most popular products of the early 1920's, selling nearly 153,000 copies. Production was discontinued in early 1925, although many remained in stock at the factory; these continued to be sold by dealers well into 1927. Even though public interest in wind-up phonographs was beginning to wane in 1921, the demand for portable machines such as the VV-50 remained strong throughout the entire decade.
While the VV-50 was ultimately replaced by lighter and better performing models such as the VV-35 and VV 2-60, it remained a very strong seller for many years.
The current survival database shows the earliest existent VV-50 to be S/N 514 and the latest to be S/N 149299.
| | | |
| --- | --- | --- |
| Manufacture Date | Serial Number Range | Feature Notes |
| 1921 | 501-25200 | |
| 1922 | 25201-60300 | |
| 1923 | 60301-85900 | Crank moved to right side at s/n 84000 |
| 1924 | 85901-129100 | |
| 1925 | 129101-142600 | |
| 1926 | 142601-152600 | Production ceased mid-year. Product continued to be sold by dealers into 1927. |
Do you own a Victrola VV-50? Please take a moment and enter some basic information about your machine into the collector's database by clicking here. No personal information is required.