The Victor-Victrola Page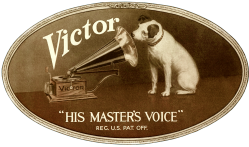 VV-405 / VE-405 / VV-S-405 / VE-S-405
RARITY: ¤¤ VALUE: ¤¤

---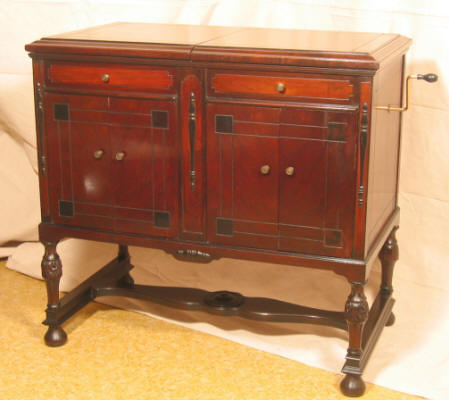 The VV-405 was one of three "Art Case" flat-top console style Victrolas that were introduced in the summer of 1923. These models, the VV-400, VV-405 and VV-410 were concurrently launched at a time when phonograph sales were slowing. Home radios had started to appear at retail dealers and were drawing away many Victrola customers. Victor launched these three new products in an attempt to bolster their sagging sales for the coming Christmas season. The previously-introduced flat-top console Victrolas (such as the VV-210) had been successful for the past few years, so it made sense to offer some new variations on the flat-top designs for affluent buyers.
The 405 featured inlaid walnut veneers in a modern cabinet style with substantial braced legs, gold plated hardware, an air-support lid, and a 4-spring motor. The VV-405 cabinet matched the design of the upright VV-360 model which was unsuccessfully launched one year later.
The original 1923 selling price of the VV-405 was $250.00, which equates to $3,800.00 in today's money. It was by far the most successful 'upscale' Victrola model in the marketplace that year, outselling the other Art Case machines by a large margin. This was likely due to its elegant and practical styling, which would fit into almost any type of home decor.
An estimated total of 23,100 Victrola VV-405's were produced. The majority were made in 1923, but production continued at low-levels into early 1925. Approximately 1,176 VE-405 models (electrically powered) models were also made at that time. The electric motor version added $40.00 to the price tag.
Approximately 5,400 "radio-adaptable" model VV-S-405 models were produced in late 1924 and early 1925; these machines provided a dedicated space for mounting a small aftermarket radio on the left-hand side of the cabinet. In addition, approximately 1,150 electrically-powered radio-adaptable VE-S-405 versions were produced. The radio-adaptable versions were priced at $265.00 (spring motor) and $305.00 (electric motor). It is highly probable that these radio-adaptable machines were factory conversions of left-over VV/VE 405 series cabinets which had remained in storage at the Camden plant.
As was the case for most of the higher-priced Victrolas launched in 1923, the VV-405 continued to be listed in Victor's 1924 and 1925 product catalogs. However, unlike most Victor products from that timeframe, the 405 series sold well enough to justify the continuance of limited production into early 1925. For more information on Victor's financial crisis of 1924-1925 and the overproduction of phonographs, please click here.
The survival database currently shows the earliest existent VV-405 to be S/N 513 and the latest to be S/N 23525
The earliest surviving VE-405 is S/N 519 and the latest is S/N 1672
The earliest logged VV-S-405 survivor is S/N 569 and the latest is S/N 5857
The earliest surviving VE-S-405 is S/N 604 and the latest is S/N 1644
Do you own a Victrola VV-405? Please take a moment and enter some basic information about your machine into the collector's database by clicking here. No personal information is required.