The Victor-Victrola Page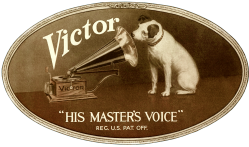 VV-350 / VE-350
RARITY: ¤¤¤ VALUE: ¤¤

---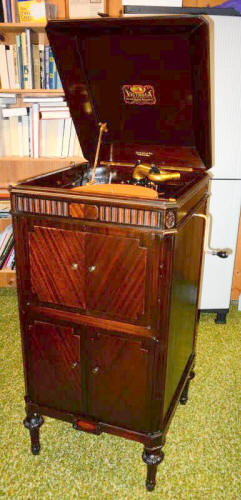 The VV-350 was one of three short-lived "Art Case" upright Victrolas that were introduced in the fall of 1924, just in time for the Christmas selling season. These models, the VV-350, VV-360 and VV-370 were concurrently launched at a time when phonograph sales were approaching an all-time low. Radio was the big seller that year, and Victor became increasingly desperate to launch some new products to spur sales.
The VV-350 matched the design of the console-style VV-400, but in an upright cabinet configuration. It used the same "V" shaped veneer patterns on the front doors, along with rectangular design themes as was featured on the VV-400. Like the other Art Case models, the VV-350 was intended to provide a premium choice for affluent buyers who preferred an upright Victrola to the newer flat-top consoles. However, retail sales for any type of Victrola were practically non-existent in late 1924, and production of the VV-350 was ended within a few months.
All VV-350's have identical features, including gold plated hardware, an air-support lid, and a 4-spring motor. It was also configured to play Victor's "proposed" new, long-playing 14" records, which never became a reality. The 350 was only available in mahogany. The original 1924 selling price was $235.00, which equates to almost $3,600.00 in today's money.
An estimated total of 880 Victrola 350's were produced, all in 1924. Approximately 1,160 VE-350's (electric powered) models were also made before per factory records, but based on the serial numbers of surviving examples, is likely that far fewer electric versions were actually produced.
As was the case for most Victrolas made in 1924, the VV-350 continued to be listed in Victor's 1925 product catalog. Due to the lack of sales, it is quite likely that many VV-350 models were sold during Victor's well-advertised "half-price" sale during the summer of 1925. For more information on Victor's financial crisis of 1924-1925 and the overproduction of phonographs, please click here.



The survival database currently shows the earliest existent VV-350 to be S/N 543 and the latest to be S/N 1335
The earliest surviving VE-350 is S/N 550 and the latest is S/N 647
Do you own a Victrola VV-350? Please take a moment and enter some basic information about your machine into the collector's database by clicking here. No personal information is required.