The Victor-Victrola Page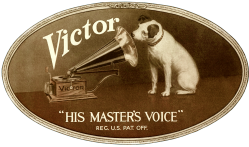 VE 9-55 E
RARITY: ¤¤¤ VALUE: ¤¤¤

---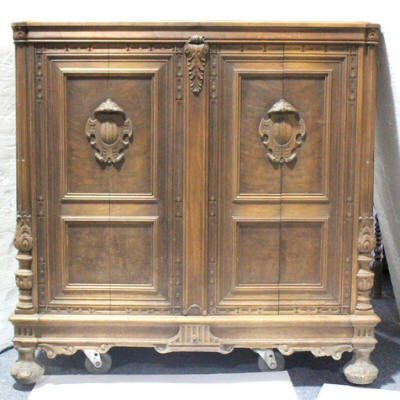 The VE 9-55 was Victor's most advanced radio/phonograph set when introduced in the fall of 1927. This extremely expensive package combined RCA's state-of-the-art Radiola 28 radio with Victor's latest amplifier and paper-cone speaker system. In addition, the revolutionary Victor automatic record changer was included, making this the most complete and sophisticated 'high-end' home entertainment system that could be purchased anywhere. Up to one hour of continuous recorded music was possible, along with excellent radio reception. The 9-55 even included its own internal antenna.
This impressive system performed magnificently. The imposing, carved walnut cabinet measured almost 52" wide. Opening the doors on the left reveal the record changer and space for storing albums, while the doors on the left reveal the volume control and radio adjustment dials. A pilot light at the bottom showed when the machine was operating.
The 9-55 sold new for $1,550.00, which equates to more than $23,000.00 in today's money. As a comparison, a brand new 1927 Buick 120 Sedan cost $1,495.00. Obviously the 9-55 was intended to appeal to wealthy customers who wanted the most advanced sound system that was available at the time; however most were sold to restaurants and hotels for the "continuous entertainment" of their clientele. Due to the rapid advancement in electronics in these years, the 9-55 was soon overtaken by lower-cost and more advanced machines. Regardless, these Electrolas were reliable performers, and could hold their own against more advanced products throughout the remainder of the 1920s.
An estimated total of 2,000 VE 9-55 machines were produced; all were made during the last few months of 1927.
While this model is not commonly found today, the cost of restoration of these early and complex radio/phono combination sets may limit the interest of collectors in the current market.
The current survival database shows the earliest existent VE 9-55 to be S/N 529 and the latest to be S/N 2440.
Do you own a Victrola 9-55? Please take a moment and enter some basic information about your machine into the collector's database by clicking here. No personal information is required.