VV 8-1 / Credenza / Credenza X / VV 8-30 / VE 8-30 X
RARITY: ¤ VALUE ¤¤


---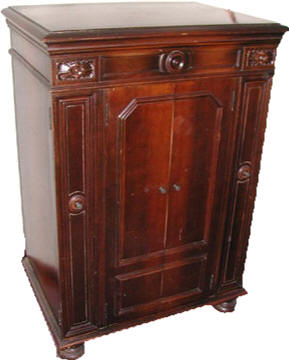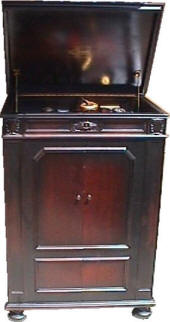 The Credenza (also called the 8-1) was the most expensive of the first four Orthophonic Victrola models, officially introduced to the public in November 1925. It featured the largest horn that Victrola had ever offered, and was frequently used to demonstrate the amazing quality of Orthophonic reproduction. A large and elegant cabinet gave this model an impressive appearance. Approximately 50 to 100 were produced in the late summer of 1925 which used an "8-1" (not Credenza) tag. These were likely used as dealer demonstrators, to introduce the retailers and distributors to the new product. Pre-production examples can be readily identified by the very red stained cabinets (top left), which are finished in the traditional Victrola shellac and varnish method. Carvings are also slightly different from the production versions.
After it was officially introduced, the Credenza name was used on the dataplate. Production versions were available in mahogany or walnut veneers, with a blended stain and (new to Victor) lacquer finish. The strong reddish hue of the pre-production models was replaced with a more subdued brown shade. The Credenza included an automatic brake and gold plated hardware. Early production versions had two large doors in the front (lower left), while later models used a four-door design with the center two doors covering the horn, and the two side doors used to enclose the record storage areas (upper right). All the very early versions (S/N < 5000) use the 2-door design, but there appears to be some sequential intermixing of the 2 and 4-door designs in late 1925 and early 1926, although all models used the 4-door configuration by the second quarter of 1926 (S/N > 15000). A $50.00 option was a colored tooled-leather covering on the front (bottom right).
The "Credenza" name was changed to a "8-30" designation on the dataplate in mid-1926. Also, in the middle of 1926, the motorboard was changed by shifting the turntable to an off-center position toward the right. A padded record holder was later added on the left side of the motorboard. The Credenza was produced from late 1925 through early 1927, although it remained in the Victor catalog to the end of that year. Some very late Credenzas have reportedly been documented with an RCA-Victor license sticker, indicating that some had been held in factory stock until after RCA purchased Victor in 1929. Invoices show that dealers were still selling these models well into in the early 1930's, but this was certainly left over old stock.
Some late production examples used a combination of walnut and mahogany veneer, with the walnut typically used under the lid. This was probably done to use-up the stock of veneer in the factory, as the grain patterns do not match well.
In addition, several "VV 8-30-S" models were produced. These phonographs are basically the same as a standard 8-30, but with provisions to mount a radio in the cabinet. Approximately 1,000 of these machines were shipped from the factory.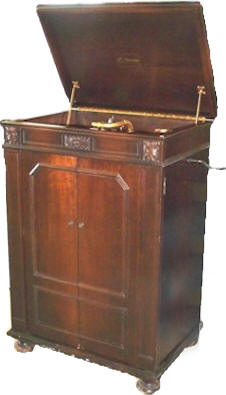 The original 1925 selling price of the Credenza was $275.00, but the price was raised to $300.00 a few months after it was introduced. An estimated total of 63,000 hand-wound Victrola Credenza's were produced.
The Credenza was also available with an electric motor option (Credenza X or VE 8-30 X) for $35.00 extra, and a total of 30,642 of these machines were produced. In addition a "Credneza U" model was produced in very low volumes; this version would run on either AC or DC current.
Approximately 5,000 Victrola 8-30 "E" machines were also produced, intended for export outside the USA. These machines are virtually identical to the US versions, but have a different licensing tag. No records exist to accurately date "E" machines, but most were manufactured in the 1927-1928 timeframe. Some Credenzas sold in Canada have a "C" prefix; however it is not certain if these machines were assembled in Montreal, or if they were built in Camden NJ for export into Canada.
The current collector database shows the earliest existent Credenza to be S/N 531 and the latest to be S/N 63210.
The earliest existent Credenza electric is S/N 585 and the latest is S/N 31797.
| | | |
| --- | --- | --- |
| Manufacture Date | Serial Number Range | Feature Notes |
| 1925 | 501-10500 | Earliest models all use 2 door design, after S/N 5000, models may use either 2 or 4 door configurations |
| 1926 | 10500-55000 | All models use 4-door design after S/N 15000. Record support added at S/N 33800. 8-30 name change implemented around S/N 45000 |
| 1927 | 55000-63500 | |
| Credenza X (VE) Electric: | | |
| 1925 | 501-2500 | Most early models use 2 door design |
| 1926 | 2500-22800 | 8-30 name implemented around S/N 14000 |
| 1927 | 22800-31143 | |
Do you own a Victrola Credenza / VV 8-30? Please take a moment and enter some basic information about your machine into the collector's database by clicking here. No personal information is required.