VV 2-35
RARITY: ¤¤ VALUE ¤


---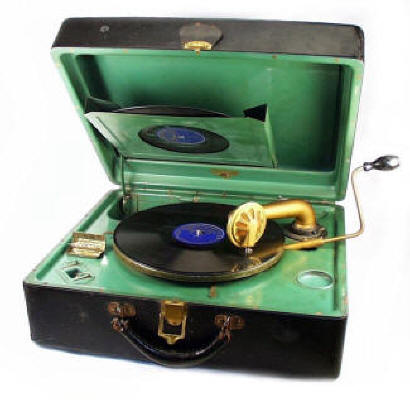 The VV 2-35 was an economy portable model introduced in 1928. It featured gold plated hardware, and a steel frame with a black fabric covering, and a green interior. It used an Orthophonic Soundbox and had a single spring motor. The 2-35 was discontinued in 1930, after RCA purchased The Victor Talking Machine Company. With basic Orthophonic reproduction, it was a very impressive sounding instrument.
The original 1927 selling price of the VV 2-35 was $25.00. An estimated total of 72,000 Victrola 2-35's were produced.
No detailed breakdown of serial numbers or manufacturing dates is yet compiled.
Do you own a Victrola VV 2-35? Please take a moment and enter some basic information about your machine into the collector's database by clicking here. No personal information is required.