The Victor-Victrola Page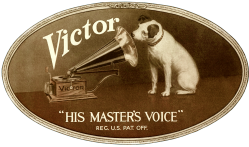 VV-100 / VE-100
RARITY: ¤ VALUE: ¤

---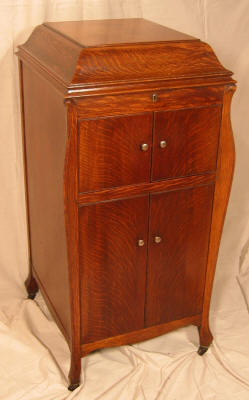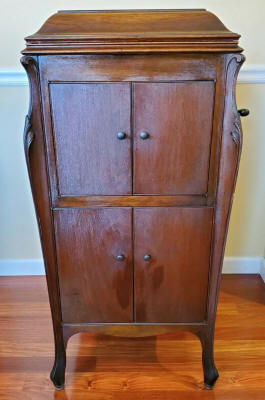 The VV-100 was Victor's very popular 'mid-line' floor-model phonograph when introduced in early 1921. Its introduction was concurrent with the reorganizing of the entire Victrola product line. These new models used conventional Arabic number designations rather than the previous Roman numerals, but they were essentially the same products that had been offered for more than 10 years prior, with moderately redesigned cabinets.
The VV-100 was the replacement for the extremely popular VV-XI. Like the XI, the VV-100 offered a full-size cabinet in a choice of mahogany, oak or walnut veneer along with the same two-spring motor and nickel-plated hardware. The VV-100 cabinet initially had no hand-carving or ornate trim (picture at left), and appeared almost identical to its predecessor.
While the VV-100 initially sold quite well, the increasing amount of competition in the talking machine business forced Victor to modernize the product to make it more attractive when compared to the offerings of other manufacturers. In early 1923, the VV-100 cabinet was enlarged slightly and hard-carved corner posts were added. The castors were replaced with 'gliders', but this was likely a cost-cutting move; those highly-touted gliders tended to become 'floor scratchers' as they became worn. This upgrade also included a slightly larger horn opening. Sales began to slow in late 1923 in spite of the new appearance, but production output remained steady. Unsold machines were beginning to be stockpiled at distributors and dealers.
A second redesign effort was undertaken in mid-1924; the horn opening was enlarged again (perhaps in an attempt to improve the sound quality), and the size of the record storage area was reduced. The cabinet consequently took-on a rather ungainly appearance (right). Air-damped lid supports were added at this time.
Production of the VV-100 was discontinued toward the end of 1924. Due to the overproduction of these machines during 1923 and 1924, it is quite likely that many late-production VV-100's were sold during Victor's well-advertised "half-price" sale during the summer of 1925. For more information on Victor's financial crisis of 1924-1925 and the overproduction of phonographs, please click here.
The original 1921 selling price of the VV-100 was $150.00, which equates to almost $2,200.00 in today's money. An estimated total of 200,500 VV-100 models were produced. A very small quantity of VE-100 (electric motor) models were also produced during the latter part of 1924.


The survival database currently shows the earliest existent VV-100 to be S/N 527 and the latest to be S/N 200969
No surviving VE-100 has been documented to date.
| | | |
| --- | --- | --- |
| Manufacture Date | Serial Number Range | Feature Notes |
| 1921 | 501-49000 | |
| 1922 | 49000-123000 | |
| 1923 | 123000-157000 | Hand carving on cabinet and larger horn opening added at s/n 123600 |
| 1924 | 157000-200500 | Cabinet design change and air-support lid added mid-1924. Yellow turntable felt added at that time |
Do you own a Victrola VV-100? Please take a moment and enter some basic information about your machine into the collector's database by clicking here. No personal information is required.