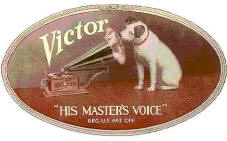 Painted and Custom Finishes
---
OTHER WOOD FINISHES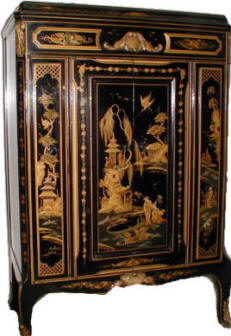 Victor produced a few models with a painted finish. Some were cheap children's phonographs (VV 1-2) with simple storybook characters, while others were spectacular custom finishes that were very costly. The most famous of these expensive machines was the Vernis-Martin (left), a limited-production version of the VV-XVI, XVII and XVIII models that had a lustrous gold finish with hand-painted decorations. These Victrolas are quite rare and very expensive. A number of other elaborate painted machines were produced on special-order, including Japanese Lacquer (below right) and other ornate designs.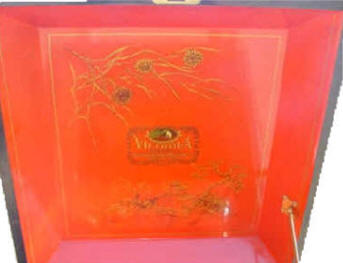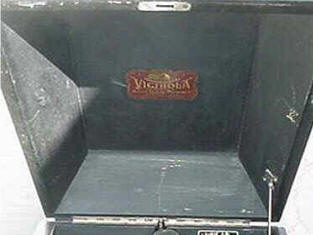 The hobbyist should be aware that a number of aftermarket services existed in the 1920's to "upgrade" a common Victrola with a fancy painted or reworked finish. In many cases, the quality of rework wasn't the best, as can be evidenced in the details of the finish. These modified machines, while interesting, usually have little added value from a collector's standpoint, even if the workmanship is decent. One easy way to identify an aftermarket modification is to closely examine the under-lid decal...on true Victor factory examples, the decal should always be placed OVER the painted or special finish, such that it is visible on top of the finish. If the decal is missing (painted-over), or if it is "blocked-out" on standard mahogany or oak (with the special finish all around it), then it is an aftermarket job. An example of an aftermarket finish job is shown on the left (note that the decal is on standard red mahogany, while the surround has been painted black). A correct factory special finish is shown below right. Note that the deal is on "top" and integrated with the finish.
Another way to spot aftermarket finish jobs is to make sure that the entire horn opening, including UNDER the horn slats, has been completely painted. The paint finish should be smooth and drip-free. The insides of the doors should match the paint under the lid.
OTHER WOOD FINISHES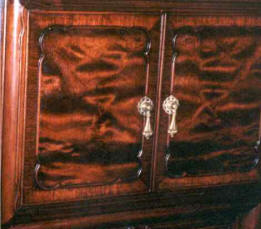 There are literally scores of custom wood veneers and finishes that were available over the years, including rosewood, ebony, teak, mother-of-pearl, and a host of others. Many of these finishes are quite rare and highly desirable.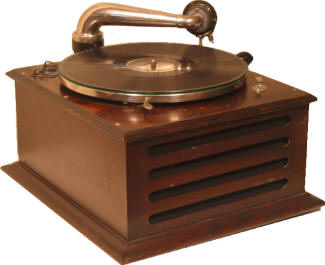 On the other end of the spectrum, common Maple and ash were frequently used on trim and cabinet pieces of some of the lowest priced Victors and Victrolas. These woods usually have a very "washed-out" grain and non-distinctive appearance. In some instances, pine was stained to look like mahogany as is the case on the low-cost VV 1-1 (right). There is minimal grain contrast on these cheaper wood cabinets.