Section Three: Dating your Victor Phonograph
---
You've probably found a sticker or metal tag on your Victor Talking Machine that says "1904" or "1906" on it. There is likely some Chinese and Spanish writing on it someplace as well. These dates are not the manufacture date of your phonograph. The dates you see on those tags or stickers are the patent or license dates for certain component designs.
Your Victor product did not come from China or from a Spanish-speaking country. The Chinese and Spanish writing is to protect the patents in those regions, and the translation is: "Registered Trademark".
As a general rule:
External Horn Victors were made between 1901 and 1920, although the vast majority of these were produced in the 1902-1913 timeframe.

Internal Horn Victrolas were made between 1906 and 1925, and the vast majority were produced in the 1914-1922 timeframe

Orthophonic Victrolas (improved sound) were made between 1925 and 1929.

Electrola (electrically powered) models were made between 1913 and 1929.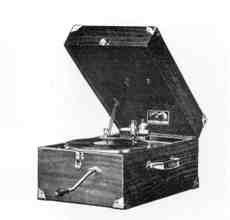 All Victor phonographs were originally delivered to the dealer with a paper license sticker attached, which often has a veritable plethora of patent dates printed all over it. The sticker may be located on the back, the bottom or on an inside wall of the cabinet, depending on model. It is common for these stickers to have fallen off, or become damaged over time, and consequently, your phonograph may not have an intact one remaining. If you do find it, the most obvious date (Month, Day, Year) on the lower left corner of the sticker is often mistaken for the date that the machine was manufactured. In some cases, that license date is accurate within 1-2 years of the actual build date, but in other examples, it may not match the build date very well at all. The sticker was put there to indicate the legal licensing date to establish retail pricing, and in some instances, new stickers were re-applied by dealers many years after the machine was built. Victor didn't always keep the sticker dates current either. The sticker date can be as much as 4-5 years earlier than the actual date the machine was manufactured.
No matter when it was built, they often still left those "1904" or "1906" patent dates on the tags, and the confusing license sticker dates didn't change much. Little did they suspect that it would create so much confusion a century later (if you don't believe me, look at the Ebay auctions showing 1906 as the build date on about half the Victrolas listed).
In most cases, we can accurately determine the date that many Victor products were manufactured by correlating the model and serial number information with the original production logs. However, this only applies to the post-1906 models. Factory documentation for early external horn models is poor, and to further complicate matters, some external horn products underwent a company-wide serial number "reset" in 1909, which makes accurate dating nearly impossible for many of these machines. However, we can come close by looking at a few clues in the design. Internal horn Victrolas are all easily dated via the serial number.
At the end of this introductory section, you can follow the simple instructions to date most Victor and Victrola phonographs in a matter of minutes.
Now, let's look at value...