VV-XI Serial Number 131324 Type G SOLD! Glendale CA
Build Date: Approximately March 1915
Originality: 1 Totally original (unrestored) cabinet, hardware and finish.
Overall Condition: 2- Minor discoloration and minimal wear
(See the Ratings/Condition page for our grading scales)
---
Almost every auction or estate sale we attend has a Victrola XI for sale. They were Victor's most popular model, selling over 800,000 copies over many years of production. Many of them are still around. The vast majority (over 70%) were produced in a mahogany finish, with golden oak being the next most popular choice. Consequently, VV-XI's with those standard finishes, in average attic-stored condition, sell on the order of $100 to $200. It they are in mint original condition, the price can increase significantly. A few were made with unusual finishes, including this totally original example in "Weathered Oak". It is a dark finish which exaggerates the grain contour, and has a wonderful patina, which gives it a striking appearance. This machine is as original as they come. It is "as found" in a farm house in upstate Michigan, and features the original finish, original hardware and even the original turntable felt. We haven't even polished it! The dataplate has some discoloration, but is still very readable. Tag from selling dealer in Toledo, Ohio is still attached. Original machines of this calibre should remain untouched to preserve their value. Try to find another one with this finish and in this condition!
If you are into totally original antiques, and appreciate the unusual finish, this would be an excellent choice. As with all our phonographs, the motor, soundbox and all mechanical components have been torn down, cleaned and correctly rebuilt. It comes with our 2 year unconditional performance warranty.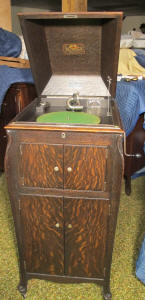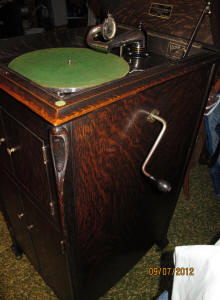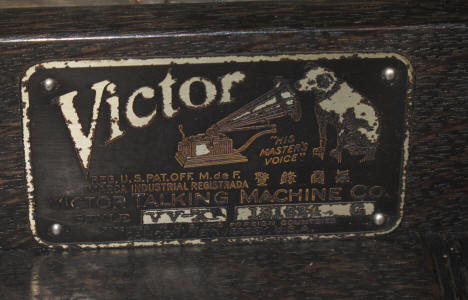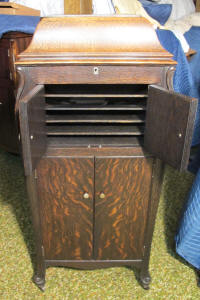 Sold!